Quebec metal innovators VOIVOD will release their final album featuring the band's late guitarist, Denis "Piggy" D'Amour, in the U.S. on Tuesday, June 23 via Relapse Records. The CD, which will be issued in Europe via Nuclear Blast, contains the last thirteen songs written by Piggy and again features bassist Jason "Jasonic" Newsted (ex-METALLICA). Jason played bass on all the songs and mixed the album, which will be released as a deluxe, digipack CD and will also be issued on vinyl as a double LP.
"Infini" was built from the final songs created by the band with D'Amour. All his original demo guitar tracks appear as they were recorded — with no re-amping and no overdubs; just Piggy as he played the tracks he envisioned in his small bachelor apartment, the amp in the bathroom, capturing his performance with the laptop given to him by Jason.
There were many discussions and ideas as to how to complete these recordings of songs that had never been actually performed with the whole band in one room. Drummer Michel "Away" Langevin went into a studio in Montreal with engineer Glen Robinson and tracked his drum parts, and Jason waited anxiously to get the tracks and add his bass which he recorded with Enrique Gonzalez Müller at Fantasy Studios in Berkeley. Denis "Snake" Belanger then tracked his vocals with Glen in Montreal. Jason and Enrique mixed the record in Berkeley over the holidays and "Infini" was born.
Truly a collaborative effort, "Infini" is an album that came together from a respect and belief that these final VOIVOD songs deserved to be heard. In light of this sentiment, the band agreed to play some summer festivals in 2008 with original bass player Jean-Yves "Blacky" Theriault and fellow Montrealer Dan Mongrain of the band MARTYR on guitar, playing all classic VOIVOD material. It was a risky move but the fans and the band were happy with the outcome so much so that this lineup will play more live shows this summer.
Snake summed it up this way: "If we don't play live again, then the songs die with Piggy and he wouldn't want that. His genius deserves to be heard by new and lifelong fans."
Jason Newsted is still a member of VOIVOD and one day there may be live shows performing the songs from the last three records that Jason was very much a part of ("Voivod", "Katorz" and "Infini"). Currently the band is working on a short clip on the making of "Infini".
Regarding the album title, Michel "Away" Langevin said, "There were many titles thrown around, but I thought of 'Infini' and everybody liked it. Also, it looks great in sci-fi fonts."
The track listing for the CD is as follows:
01. God Phones
02. From The Cave
03. Earthache
04. Global Warning
05. A Room With A V.U.
06. Destroy After Reading
07. Treasure Chase
08. Krap Radio
09. In Orbit
10. Deathproof
11. Pyramidome
12. Morpheus
13. Volcano
Total running time: 57:57
VOIVOD won the "Best Metal/Hardcore Album" award for "Katorz" in September 2007 at the annual Quebec Independent Music Awards (GAMIQ) in Montreal, Quebec.
VOIVOD 2008: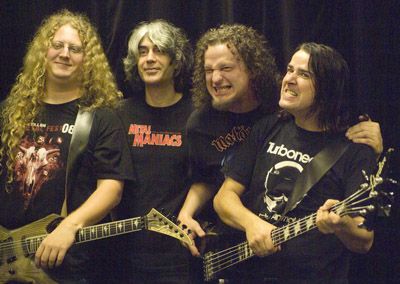 VOIVOD performing live on September 20, 2008 at Club Citta in Kawasaki, Japan:
VOIVOD performing live at the Trois Rivières Metalfest, which was held November 7-8, 2008 at the Bâtisse Industrielle in Trois-Rivières, Quebec, Canada: