Quebec metal innovators VOIVOD will release their final album featuring the band's late guitarist, Denis "Piggy" D'Amour, in the U.S. on Tuesday, June 23 via Relapse Records. The CD, which will be issued in Europe via Nuclear Blast, contains the last thirteen songs written by Piggy and again features bassist Jason "Jasonic" Newsted (ex-METALLICA). Jason played bass on all the songs and mixed the album, which will be released as a deluxe, digipack CD and will also be issued on vinyl as a double LP.
"Infini" was built from the final songs created by the band with D'Amour. All his original demo guitar tracks appear as they were recorded — with no re-amping and no overdubs; just Piggy as he played the tracks he envisioned in his small bachelor apartment, the amp in the bathroom, capturing his performance with the laptop given to him by Jason.
Carlos Ramirez of Noisecreep recently conducted an interview with VOIVOD drummer Michel "Away" Langevin about the the unorthodox recording process behind the making of the album and playing live with another guitarist. A couple of excerpts from the chat follow below.
Noisecreep: Does "Infini" consist of the last batch of material the band wrote with Piggy?
Away: Yes, there is a collection of tracks that Piggy was writing for a solo record and some of those are very "Voivodian" so we'll see if that comes out but "Infini" is stuff we had written together. We demoed so much material back in 2003 when we were rehearsing for the Ozzfest tour. We left Piggy's stuff from those sessions because he did a great job and even double-tracked his guitars so it was easy to keep them. We did have to re-record the bass and drums because the recording quality was so poor. When Snake was tracking his vocals, he was mostly just putting down melodies and little ideas like that.
Noisecreep: How much of the music changed when you went in to record the final version of the album all of these years later?
Away: The main thing that was changed was Snake's lyrics. Like I mentioned, he didn't have all of the words for everything yet when we were demoing with Piggy but even the songs that did, he changed. He felt like the lyrics he had in 2003 didn't mean as much to him anymore. He wanted things to be current. I know there are moments on this album that deal with what happened to Piggy and the loss we felt. We were more than just bandmates for so many years, we were also close friends so that had to be in there. In terms of the drums, I also felt like some of the beats I had originally recorded sounded a bit dated. I wanted "Infini" to reflect my current drum style more so that changed too.
Noisecreep: VOIVOD has always had striking album artwork. What can we expect this time around?
Away: It's very spacey, old-school sci-fi looking actually. I went online and got some cool NASA photos and incorporated them into the layout. I made a collage with some of those images and it came out looking really cool. The actual cover has the gas mask I have been using for the last few albums. I wanted to develop an identity that went along with Jason joining the band so since the self-titled 2003 album, I have used the same logo and the gas mask thing for the imaging.
Read the entire interview from Noisecreep.
"Infini" track listing:
01. God Phones
02. From The Cave
03. Earthache
04. Global Warning
05. A Room With A V.U.
06. Destroy After Reading
07. Treasure Chase
08. Krap Radio
09. In Orbit
10. Deathproof
11. Pyramidome
12. Morpheus
13. Volcano
Total running time: 57:57
VOIVOD 2008: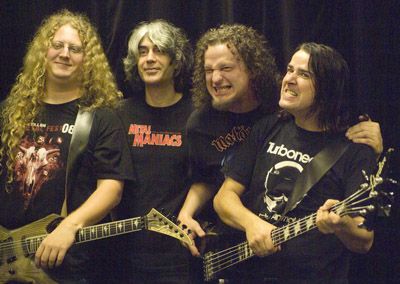 VOIVOD performing live on September 20, 2008 at Club Citta in Kawasaki, Japan:
VOIVOD performing live at the Trois Rivières Metalfest, which was held November 7-8, 2008 at the Bâtisse Industrielle in Trois-Rivières, Quebec, Canada: