A new version of FEAR FACTORY has been officially launched featuring the band's original members Dino Cazares (guitar) and Burton C. Bell (vocals) alongside bassist Byron Stroud (who played on the last two FEAR FACTORY albums in addition to touring and recording with STRAPPING YOUNG LAD and ZIMMERS HOLE) and legendary drummer Gene Hoglan (DETHKLOK, STRAPPING YOUNG LAD, DARK ANGEL, DEATH, TESTAMENT). The band is scheduled to play a number of shows this summer as well as record a studio album.
U.K.'s Metal Hammer magazine recently spoke to Dino and Burton about their decision to reform FEAR FACTORY and their future plans. A couple of excerpts from the chat follow below.
Metal Hammer: This has come as something of a surprise. Aren't you guys supposed to hate each other?
Burton C Bell: "Well, you know, we were friends before we were in a band together and after a while we forgot what it was all about. The first time we saw each other in a long time was at the MINISTRY show in L.A., and we just started talking again. It was like, 'I don't really remember what it was all about!' It's like, good friendships will always return, basically."
Metal Hammer: Were you surprised by that? Had you avoided each other?
Burton: "We never really avoided it, we were just never in the same place. We were in the same place that one night and it was like seeing an old friend again, and it was good!"
Dino: "Burt lives in Pennsylvania and I live in California, so obviously we never really had a chance to see each other. When we did see each other, it was like 'What's up, buddy? How're you doing?' It was like we'd never stopped being friends. It wasn't weird, it just felt good. I already know him! Ha ha ha!"
Metal Hammer: When did you decide that this was going to be FEAR FACTORY and not just a new project?
Dino: "Well, Burton pretty much approached me with that idea, and how could I say no? I'd be jamming with my old friend again and it'd great to collaborate with him because we wrote some of the best music of our lives together."
Metal Hammer: Have you guys rehearsed together yet?
Dino: "Yesterday was our first rehearsal. It was amazing. The vibe was really good. It felt like we never stopped jamming. You know, Burton's always got a million ideas and obviously I shit out riffs, and playing with one of the best drummers in the world…for me, it's one of the best collaborations that I've ever been a part of."
Metal Hammer: Do you have specific aims for the new FEAR FACTORY or are you keeping an open mind about the possibilities?
Dino: "There are definitely specific things we want to achieve, but we have to approach this with an open mind. We don't want to fully repeat ourselves, what we've done in the past, but we definitely do want to make this album the future of a classic record."
Metal Hammer: A lot of bands are reforming these days and everyone always plays all the old classics…is that your plan too?
Dino: "One of the things about FEAR FACTORY's m.o. is that we were always a band that evolved, and that's something we want to achieve now too. It's obvious that we've got my signature right hand, my guitar, and we've got Burton's signature vocals, but we've got a different drummer and this is eight years later, so there's gonna be some different ideas and we're gonna make it the best it can be. We're not gonna put out a record that's half-assed. It's going to be 100 percent FEAR FACTORY and it's going to be the future."
Burton: "I wouldn't say this is a reunion or a reformation. It's more of a reorganization. FEAR FACTORY has been rolling around, even though we haven't been chugging out records. The last one was four years ago, but it's just in a state of reorganization now."
Dino: "I know a lot of bands, when they get back together they can basically go out and tour off the classics and that's great. That's something that we're definitely going to do and I know a lot of the fans are going to want to hear Dino's guitar sound back into the mix, and we're really happy to be able to give them that. We're going to have some European festivals coming up, including Sonisphere."
Metal Hammer: …and you're doing Bloodstock too, right?
Dino: "Yeah, we're doing Bloodstock as well and some other festivals in Spain and Italy."
Read the entire interview at www.metalhammer.co.uk.
Dino's tenure with FEAR FACTORY ended in March 2002 after Bell announced his departure from the group, allegedly telling his bandmates at the time, "Look, guys, I'm not into it anymore, I don't wanna play in the band anymore, I don't wanna play with you guys, and I especially don't wanna play with you, Dino."
FEAR FACTORY eventually reformed without Dino and released two more studio albums, 2004's "Archetype" and 2005's "Transgression".
In a September 2007 interview with MTV.com, Cazares — who currently heads up a new band called DIVINE HERESY — stated about his former group, "In the long run, I believe I came out the winner, and I feel that they have bastardized the name, and it's a completely different band, different style. I definitely carried the passion in that band, and my riffs, my style, they were very distinctive. I don't regret anything I created in FEAR FACTORY whatsoever. It will be part of my memory for the rest of my life. I believe I am continuing the legacy and keeping this metal torch alive and bringing it back with DIVINE HERESY. You can feel the hunger and passion in DIVINE HERESY, which I believe FEAR FACTORY has been missing, and is still missing to this day."
DIVINE HERESY, whose status is "unaffected" by Dino's involvement with the new project, is currently working on its sophomore album, "Bringer Of Plagues", for a July 28 release via Century Media Records. The band is once again recording with acclaimed producing team Dirty Icon (Logan Mader and Lucas Banker), which has previously worked with CAVALERA CONSPIRACY, GOJIRA, FIVE FINGER DEATH PUNCH and DEVILDRIVER. Cazares is also co-producing the new effort.
DIVINE HERESY's follow-up to 2007's "Bleed The Fifth" will be the group's release with new vocalist Travis Neal, who was previously a member of THE BEREAVED.
DIVINE HERESY's debut album, "Bleed the Fifth", has sold more than 30,000 copies in the United States since its August 2007 release, according to Nielsen SoundScan. The CD, which has shifted more than 50,000 copies worldwide, was issued in Japan with an exclusive bonus track, "Purity Defiled".
ARKAEA — the new band featuring FEAR FACTORY members Christian Olde Wolbers (guitar) and Raymond Herrera (drums) alongside vocalist Jon Howard (THREAT SIGNAL) and bassist Pat Kavanaugh (THREAT SIGNAL) — will release its debut album, "Years In The Darkness", on July 13 via E1 Music (formerly Koch Records).
Dino Cazares and Burton C. Bell (photographed in April 2008):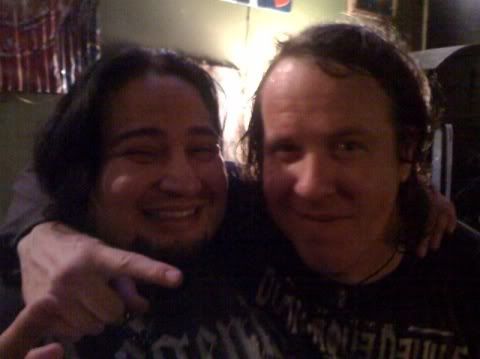 Classic FEAR FACTORY lineup performing "Scumgrief" at U.K.'s Castle Donington in 1996: