Edmonton, Kentucky rockers BLACK STONE CHERRY shot a video for their new single, "Blind Man", this past Thursday, July 10 in Louisville, KY at the famous Waverly Hills Sanatorium. "It was so bad-ass!" the band writes on its MySpace page. "We've always wanted to go to Waverly Hills because of its history (and because we wanted to find a ghost there... it's one of the top three haunted places in America!). So to shoot a video inside was very honoring and we thank everyone at Waverly and everyone who had someting to do with the making of this video! It's going to blow your mind when it comes out... so watch for it soon!"
"Blind Man" is the first single off BLACK STONE CHERRY's second Roadrunner album, "Folklore and Superstition", which is scheduled for release on August 19. The CD was recorded in Nashville, Tennessee at Black Bird Studios, which is owned and operated by country music star Martina McBride. It was produced and mixed by veteran Bob Marlette (OZZY OSBOURNE, SALIVA). "Blind Man" can be previewed on BLACK STONE CHERRY's MySpace page.
"We are taking the southern tradition and spreading it out to the rest of the world," says bassist/vocalist Jon Lawhon. "They say, 'Write what you know,' so that's what we're doing, writing what we know."
Lawhon is joined in the band by vocalist/guitarist Chris Robertson, guitarist/vocalist Ben Wells and drummer John Fred Young, whose father and uncles are founding members of the Grammy Award-winning country band THE KENTUCKY HEADHUNTERS.
Former MEGADETH bassist David Ellefson, who currently works for Peavey Electronics (manufacturer of musical equipment, gear and accessories) as an artist relations representative, conducted an interview with BLACK STONE CHERRY in Nashville, Tennessee during the making of "Folklore and Superstition". Watch the 14-minute PVTV report in two parts below.
BLACK STONE CHERRY will premiere "Folklore and Superstition" on the nationally syndicated radio show "Rockline" with host Bob Coburn on Monday, August 18 at 8:30 p.m. PT / 11:30 p.m. ET. Fans are encouraged to call to speak with the band by calling 1-800-344-ROCK (7625).
For a station near you and for information regarding how to easily log onto the Internet for the broadcast, go to www.RocklineRadio.com.
"Folklore and Superstition" track listing:
01. Blind Man
02. Please Come In
03. Reverend Wrinkle
04. Soul Creek
05. Things My Father Said
06. The Bitter End
07. Long Sleeves
08. Peace Is Free
09. Devil's Queen
10. The Key
11. You
12. Sunrise
13. Ghost of Floyd Collins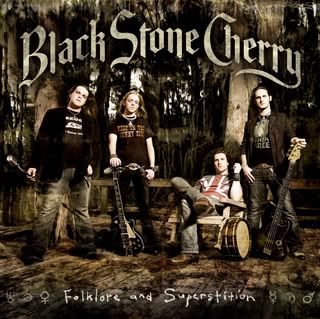 Part 1:

Part 2: