Aftenposten.no reports that residents of the small community of Oltedal in western Norway were gathering to mourn the tragic deaths of a young local couple over the weekend. They apparently were asphyxiated in a bus while attending a rock music festival.
Terje Brueland, age 32 and Anita Wathne, age 31, had traveled to Kvinesdal on Norway's southwest coast to attend the Norway Rock Festival. They were staying with a group of friends from Oltedal on board the bus, which had been converted into a mobile home of sorts.
At around 2pm Saturday afternoon, some others came to check on those staying on the bus and found a tragic scene. Brueland and Wathne were dead, and eight others unconscious.
Read the entire article from Aftenposten.no.
Norway Rock Festival was held July 10-13 with the following lineup:
ALICE COOPER
MOTÖRHEAD
HELLOWEEN
TURBONEGER
DUMDUM BOYS
SOILWORK
PAIN
THE QUIREBOYS
HARDCORE SUPERSTAR
VOLBEAT
HAYSEED DIXIE
WE
STAGE DOLLS
BACKSTREET GIRLS
PAGAN'S MIND
AUDREY HORNE
THE LAST ROCK'N'ROLL BAND
RONNY LE TEKRÖ
K[NINE]
INSENSE
Photo courtesy of VG.no:
Photo courtesy of Dagbladet.no: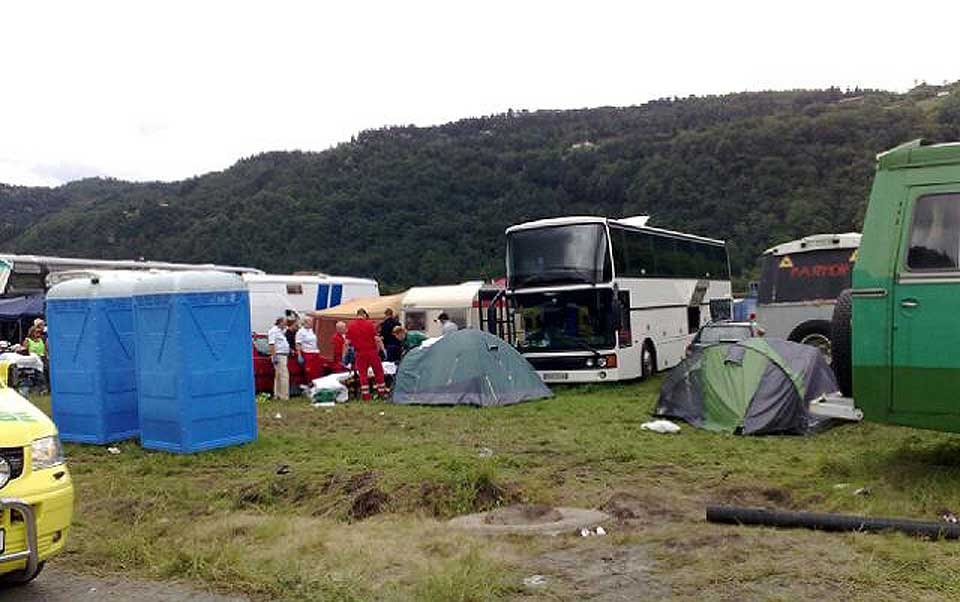 (Thanks: Lord of Noise)