According to the Finnish broadcasting company YLE, Finnish gothic metal band ENTWINE's tour bus was burnt to the ground (see photo below) in Ähtäri Saturday morning (April 18). The driver sleeping in the top bunk of the bus barely managed to escape from the burning vehicle.
In addition to the bus, all of the group's instruments were destroyed.
The fire caused the band estimately 50,000 euros worth of damage.
The officials say the fire started from a gas heater.
ENTWINE had performed in Ähtäri last night (Friday, April 17) and the musicians were sleeping at the local accommodation facility.
Commented vocalist Mika Tauriainen: "I woke up in the morning as the driver rushed into the room telling the bus was on fire and we needed to go and carry out the equipment. I thought that only the curtains would be on fire. I opened the inn door and the bus was in full blaze. I realized I couldn't do a thing. There we waited for the fire department and watched the bus burn.
"All the equipment burned down with the bus. We found a couple of drum sticks in one piece. But money doesn't matter. What is important is that the bus driver was saved.
"All our background music was on the hard drive that burned. So the Leppävirta gig will be an undressed version. At least we were able to arrange loan equipment. I hope that people will understand the situation."
"Strife", the latest video from ENTWINE, can be viewed below. The song comes off the band's sixth album, "Painstained", which was released in Finland on January 28. The CD was recorded with producer Hiili Hiilesmaa (HIM, APOCALYPTICA, SENTENCED).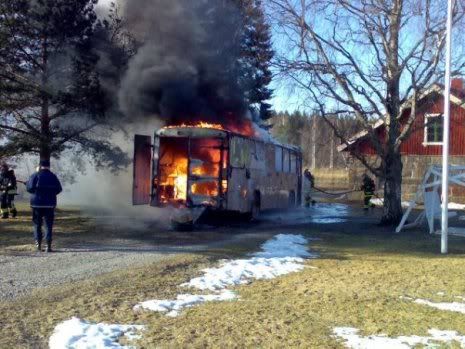 (Thanks: God Of Reptiles)