Frontman Sean Peck of San Diego metallers CAGE will guest on DJ Will's KNAC.COM show "The Vault" today (Sunday, July 5) at 11:30 a.m PST.
To listen to the show live via the Internet, visit www.knac.com.
CAGE's fifth album, "Science Of Annihilation", was released in Europe on May 22 through Music Buy Mail (June 7 in the rest of the world). The follow-up to the epic "Hell Destroyer", "Science Of Annihilation" sees CAGE "pushing its boundaries yet again in every department," according to a press release. "With tracks like 'Planet Crusher', 'Speed Kills', and 'The Scarlet Witch', be prepared to feel the need to turn it up, get in your car and drive fast as Hell! All of the classic CAGE heavy metal sound is intact and found all throughout this 12-track smasher! Like all previous CAGE offerings, these songs will stick in your mind and cause many sleepless nights! If you love classic metal anthems, vocals that soar to the heavens and shatter glass, riffs that crunch your spine, and drums that blaze with thunder then behold…the science of annihilation!!"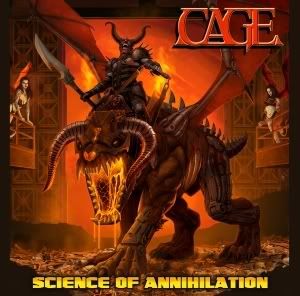 (Thanks: Andrew / The Space Lord)